Sauti Yetu, an initiative of Inuka Kenya Ni Sisi!, is a platform for grassroots dialogue between duty bearers: political aspirants, elected officials and members of the community.
The aim of Sauti Yetu is to encourage communities, political aspirants, elected leaders and their immediate representatives to engage in ongoing dialogue about community issues and challenges for resolution and harmonious co-existence.
The program seeks to encourage communities to exercise their democratic rights and engage based on issues that are relevant to them rather than on negative ethnicity and/or partisan politics.
Sauti Yetu is now present in three counties: Kisumu, Kakamega, Kericho, Nairobi, Nakuru and Garissa. In Nairobi, Sauti Yetu has to date conducted activities in Ruaraka, Mathare, Kamukunji, Kibra and Dagoretti North sub-counties.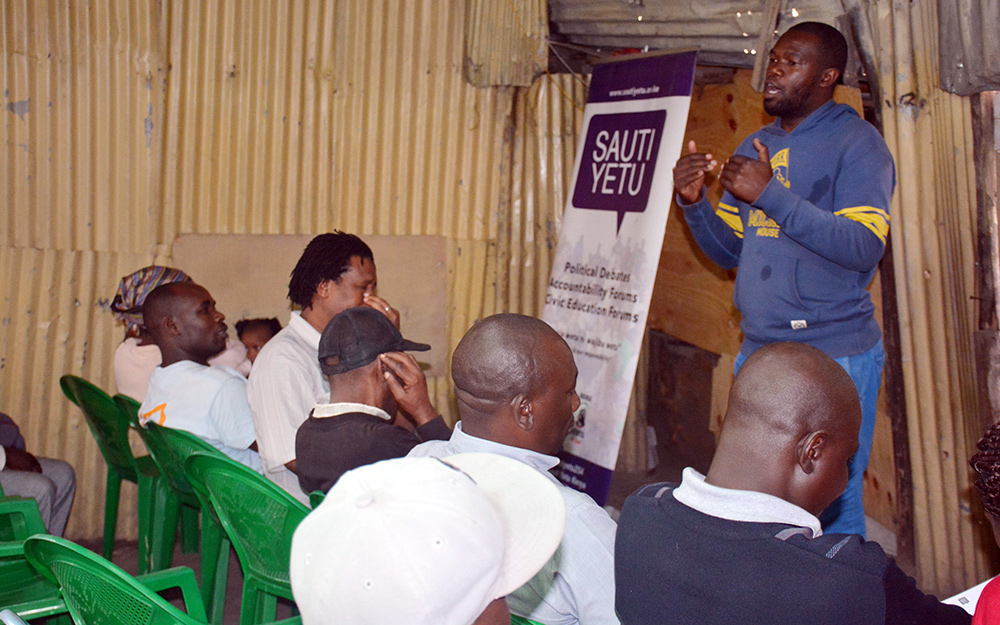 An informed citizenry, actively engaging institutions of governance in planning and prioritization of developmental issues in their areas.
To increase the engagement between members of community and leaders and enhance dialogue and accountability in the pre- and post-election periods.

To promote issue-based political discourse that cultivates and sustains active citizenry that harmoniously engage duty bearers in decision making and the overall governance process.